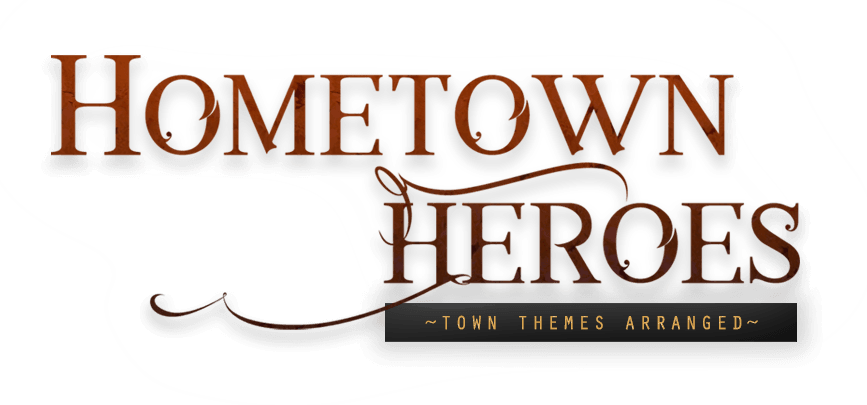 Director Notes
"Hometown Heroes offers a neat little package of emotions, most of which are nice and warm and comforting. Being home, missing home, and returning home are recurring themes that create a nice range of feelings as explored by the different contributors to this project. Even though the concept of the project is restrictive to town themes, the multiple interpretations still make it a nice, varied experience. Every individual piece brings something different to the table."
~ Emery "DaMonz" Monzerol ~
Download
Download Torrent
Lossless FLAC & MP3 & Art & Trailer, ~472MB
Downloading the album using BitTorrent is the best option - it helps us save bandwidth and gives you the option of downloading MP3, lossless FLAC files, or both by selecting which files to grab in your BitTorrent client.
Download Torrent
Download ZIP
MP3 & Art, ~85MB
Mirror #1
Mirror #2
Mirror #3
Music
1. "Bag Full of Kinstones"
Source:The Legend of Zelda: The Minish Cap - "Hyrule Town," "Picori Festival"
By:Lemonectric
~
2. "A Town That's Right for Me"
Source:Phantasy Star III - "Town 1"
By:djpretzel
~
3. "Where It All Began"
Source:Golden Sun - "Vale & Vault"
By:DaMonz
~
4. "Bossa de Moga"
Source:Monster Hunter Tri - "Village on the Sea, Moga"
By:Jamphibious
~
5. "Feelings of Hometownishness"
Source:Dragon Slayer: The Legend of Heroes - "Town"
By:Jorito feat. Furilas, Chris ~ Amaterasu, XPRTNovice
~
6. "Pale Ale from Bale"
Source:Legend of Dragoon - "Royal Capital"
By:Eino Keskitalo
~
7. "Wedding Day"
Source:Xenogears - "My Village Is Number One"
By:XPRTNovice
~
8. "Dream 'til Tomorrow"
Source:Final Fantasy VI - "Kids Run Through the City"
By:Earth Kid
~
9. "Home Again"
Source:Suikoden III - "Cheerful Farm Village (Chisha Village BGM)"
By:Jorito feat. Earth Kid
~
10. "Take It Easy"
Source:The Legend of Heroes V: A Cagesong of the Ocean - "A Peaceful Time"
By:Jorito feat. Gamer of the Winds, prophetik music
~
11. "Me and My Game Boy"
Source:Brave Fencer Musashi - "A White Cloud in the Sky"
By:DDRKirby(ISQ)
~
12. "Sweet Dreams, Koholint"
Source:The Legend of Zelda: Link's Awakening - "Mabe Village," "Ghost House"
By:DaMonz feat. Christine Giguere, Denis Bluteau
~
DaMonz
Emery Monzerol
~
Christine Giguere
Christine Giguere
~
Denis Bluteau
Denis Bluteau
~
Earth Kid
Natalya May
~
Furilas
Mac Hunter
~
Jamphibious
Jordan Michael Reed
~
Lemonectric
Benjamin Hoffman
~
XPRTNovice
Joe Zieja
~
Founded in 1999, OverClocked ReMix is an organization dedicated to the appreciation and promotion of video game music as an art form. Its primary focus is ocremix.org, a website featuring thousands of free fan arrangements, information on game music and composers, resources for aspiring artists, and a thriving community of video game music fans. OC ReMix operates under the umbrella and sponsorship of Game Music Initiative, Inc., a 501c3 non-profit charitable organization (EIN: 81-4140676).
OCRは1999年に創立されて、ゲーム音楽への感謝、保存、演出に専念するための組織です。OCRの主要な活動は ocremix.org で見つかるインターネットサイト。このサイトに数百のゲーム音楽好きに作られたリミックスのMP3と、ゲームの音楽と作曲家の情報と、音楽家を熱望している人のための供給源と、にぎやかなゲーム音楽のファンがいっぱいいます。